One of Kid Cudi's fans in Austin Texas recently died of a heart condition known as hypertrophic cardiomyopathy. He sadly died on christmas day but was able to get a few messages out to the world and to his biggest celebrity favorite: Kid Cudi. The artist has responded to Ben's message in public quotes and responded in his own name which we show below.
The fan was quoted these stories:
"Kid Cudi brought me to a glass desk and put his hand on my shoulder," Breedlove wrote in his video farewell. "Right then my favorite song of his came on, 'Mr. Rager.' The part where it said, 'When will the Fantasy end … When will the heaven begin?' And he said, 'Go now.'

"Right then, I woke up and the EMS were performing CPR. I didn't want to leave that place. I wish I never woke up."
Kid Cudi was heart broken and responded back to the public with these:
"I am so sad about Ben Breedlove," Kid Cudi wrote on his Tumblr blog. "I watched the video he left for the world to see, and him seeing me in detail, in his vision really warmed my heart. I broke down, I am to tears because I hate how life is so unfair. This has really touched my heart in a way I cant describe, this is why I do what I do. Why I write my life, and why I love you all so much.

"Life is really f—ed up sometimes, but I know Ben is at Peace, and I hope he gets a chance to sit and talk with my Dad. We love you Ben. Forever. Thank you for loving me. To Ben's family, you raised a real hero, he's definitely mine. You have my love," 

Kid Cudi even signed off the messages with his real name, Scott Mescudi which shows the sincerity of what he was saying to the world with these messages.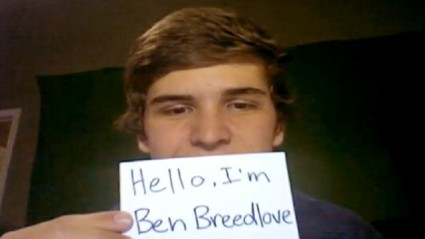 Read more related news: http://www.theroot.com/ben-breedlove-kid-cudi-fan-dies-heart-condition