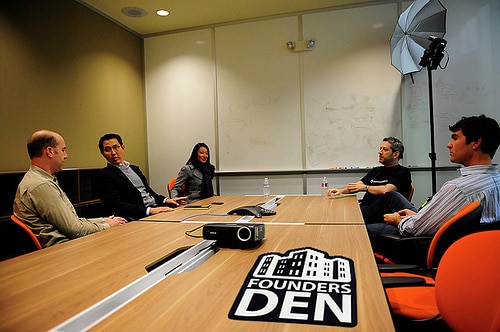 Tech Crunch always does a great job covering awesome technology news and information and has not let us down in their latest post. Colleen Taylor of T.C. covers the Founders Den invite-only clubhouse tech event . Tech Crunch gives an insiders look into this space where people from all sorts of different start ups as well as sponsors can hang out and work.
Founders Den is primarily based off of referral only people in their community. In the video they mention that 4 of the 30 tech leaders that are covered in a Forbes article and list are actual members at the Founders Den. The age range in this Den is pretty wide which makes it very interesting for all entrepreneurs to get in and learn and share their ideas with like minded individuals. Global Good Networks would definitely do well to have a representative in their learning from all of those inside and working at the den.
The Founders Den which is a "Clubhouse for entrepreneurs from the San Francisco bay area ( SoMa district ) sounds like pure genius for start up serial entrepreneurs and business lovers alike! Young entrepreneurs getting funded is one outcome of this environment another is knowledge exchange and fun.