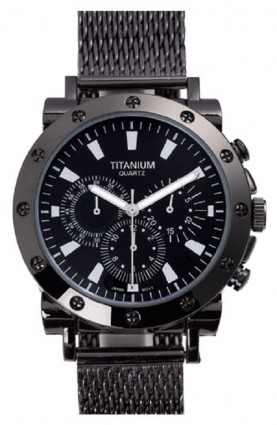 Like Fashion? Are you a guy? Are you a girl? No matter what this applies to you. Well then you may want to get a really sweet watch to match your formal attire if you do not already have one. When picking a watch it is good to match the occasion of course but regardless, you always need to have some nice classy watches that look great and work great too. Ahah! Check out one of our favorite watch brands FOSSIL! Such beauties as the Stella line exist among others. You can go here to visit all of their watch collections for women. If your a guy then you should check out the mens watch collections on Fossil.com here.
This may sound like an advertisement for FOSSIL, but it isn't, we only wish they had contacted us personally with some sample watches to promote on the Global Good Network ( maybe they will someday hint hint FOSSIL execs ;-P ). Anyways we would just like to help everybody stay on time, and look great at the same time.
For guys you may want to check out some great pieces such as the Machine Stainless Steel Watch in Smoke configuration on FOSSIL.com here.
FOSSIL actually has many great products for men and women ranging from clothing to wallets, shoes, jewelery, bags, accessories and more.
You can Shop their Online Catalog or even pay attention to their New Arrivals to stay ahead of the trends this year.
They have a great feature called the look book where you can see some example outfits and people wearing them and you can shop within that outfit to buy any pieces you like that might make your day even happier ( not to be too materialistic of course, Global Good should make you the happiest! ).
Alternatively you can get some great finds from Nordstroms too in their online Mens Watch section. These can be bought for between $130 USD and $450 which are similar to some FOSSIL prices and still end you up with a cool and stylish product.
One of our super top favorites is actually NIXON who makes all sorts of large face type watches that even have the three mini timer / guage / clocks on the inside allowing you to time all sorts of things at once with controllable knobs on the side.
One great Nixon watch with a leather strap is called "The Ride"
Also check out the Nixon "51-30 Chrono" Watch
Some watches directly on Nixon's Website ( NixonNow.com ): http://www.nixonnow.com/mens-watches/
Here is the "Nixon Ride" on their website: CLICK HERE ( the Silver wrist band with the white face  is one of the sexist in our opinion )
Or go to NixonNow.com for officially updated catalogs and info about all of their awesome watches! ( Nixon we should get a Global Good Nixon Watch too we love them! )
On a low budget? No worries we still have you covered!
Nordstroms allows you to sort by lower priced items as well and there are many stylish, classy, and sophisticated watches available for 19.50… so there you go.. plenty of style and function at a price you can afford no matter what so you better get on your feet and get a watch if you don't have one!
Lastly, here is a super cool and nice looking watch called the Titanium Chronograph Watch with Mesh Band. About to give the world a little style secret, I have one of these and like it even though the three mini insider clocks are all for looks and cannot be adjusted. So anyways check it out here! You can pick it up for 19.50 and it works well especially when you need a nice looking watch but may have some sporting and other outdoor activities where you do not want to break or damage a nicer timepiece.
Global Good Fashion Police out! -JB